Awesome. I have been wanting to see some Borg in Voyager since season 2. Then I find that aside from teasers in a couple episodes, season 3 finale will be focused on Borg. But I held my patience and didn't skip a single episode. Voyager is always interesting even if the episode synopsis seemed boring. Anyway, Season finale is so good it puts some of the older Trek movies to shame. I noticed they even used engaging bgm's never before played in earlier episodes. It was worth the wait.
We are Borg!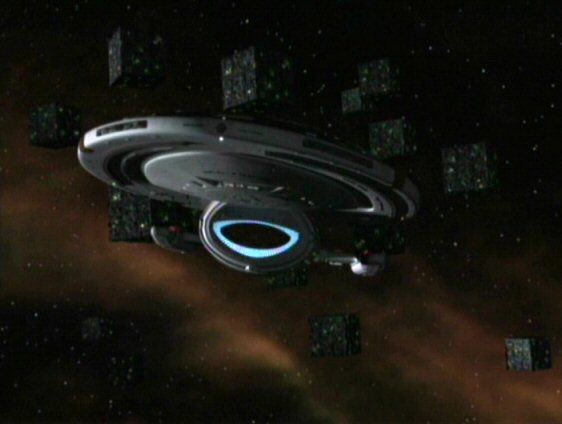 Edit:
If there is one thing I want to un-see when I watch Trek, those are the disgraceful scenes caused by lack of seat belts. I understand they want us to think their space crafts are so hi-tech with shields and artificial gravity they won't need seat belts. But then again, every time an enemy hurls torpedoes, lasers, space rocks, cojones, cats, and all sorts of scientific perversion, they keep falling off their chairs. I probably haven't seen 200 episodes of Star Trek yet but already I cannot count the number of crewmen who died with bloody heads as a result of shuttle crashes. I understand holding hard onto your Captain's chair worked during the Shatner era and maybe during the Professor-X era too but well. As far as my limited knowledge is concerned, Gene Roddenberry has been known difficult to work with during the TNG era. This may be a good excuse to finally assassinate the old man.
Captain Picard at 100 years old probably have six-pack abs from constantly getting up from the floor.. Lol. And from drinking Earl Grey tea. Haha!
If I have Q powers, I'll probably use it to prank them and enjoy watching the indignity of scrambling back to their seats like it's nothing. Bahahahaha! 
I live in the 21st century but I'm smarter than them cos I'd wear knee pads and helmet when I hear Yellow alert or Red alert
-"It is the most logical thing to do"